Sponsor the 2021 SAFSF Forum
Your sponsorship of the 2021 SAFSF Forum boosts our power to convene funders across the agriculture and food system spectrum at a critical moment for philanthropy. Forum sponsorship helps us ensure space for new voices from the field, bring new research and expertise, and offer more opportunities for Forum attendees to connect and get to know each other, even in the virtual realm.
Reserve your sponsorship by as soon as possible to receive the full benefit of advance promotion of the 2021 SAFSF Forum. All sponsorships must be finalized by April 26, 2021. Contact Renee Catacalos, Senior Director, Membership and Outreach, or simply add payment for a sponsorship to your Forum registration (opening early April) and we'll contact you to complete the details!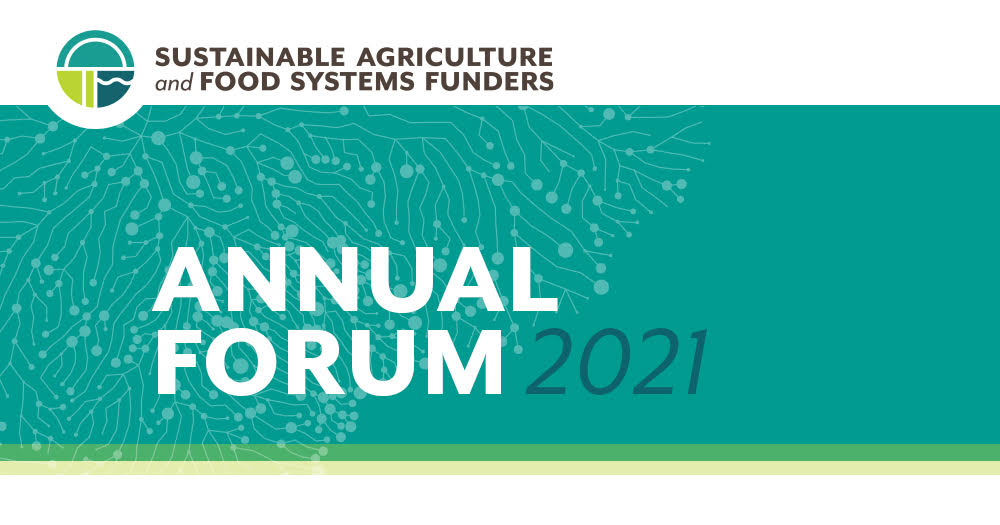 Platform Sponsor – $2,500+
Logo/name on Forum website, emails and social media
Recognition on the Welcome and Main Agenda pages and the Sponsor page of the event platform
Verbal recognition during each Forum activity
One (1) complimentary Forum registration
Opening Sponsor – $1,500+
Logo/name on Forum website, emails and social media
Recognition on the Opening Session page and the Sponsor page of the event platform
Verbal recognition during the Forum Opening Session
Session Sponsor – $750+
Sponsor choice of session
Logo/name on Forum website, emails and social media
Recognition on the sponsored Session page and the Sponsor page of the event platform
Verbal recognition during the sponsored Session
Networking Sponsor – $750+
Sponsor choice of session
Logo/name on Forum website, emails and social media
Recognition on the sponsored Networking Event page and the Sponsor page of the event platform
Verbal recognition during the sponsored Networking Event
Friend – $100+
Name on Forum website
Recognition on the Sponsor page of the event platform