The SAFSF Forum was again held online in 2021 to offer the opportunities for real-life learning and peer connection that funders look forward to all year.
Spanning two weeks, from May 3-14, 2021, the 2021 SAFSF Forum was a curated assortment of thought-provoking, timely, and diverse programming developed by SAFSF funder peers.
Our program featured one live, interactive workshop session per day, plus a host of live networking sessions and other interactive activities. With a range of workshop and networking sessions offered over two weeks, funders had the opportunity to put together the schedule that worked for their learning, whether that meant:
Tuning in live and participating in dynamic discussions with expert speakers
Listening to session recordings at a time that works for you
Connecting with funder and investor peers across the country during live networking sessions and in our online platform
The Forum was developed by and for funders who are working on a variety of issues, approaches, and geographies. Attendees left with inspiration, strategies, and connections for impactful engagement related to their own work within the food system.
---
Platform Sponsors
Session/Networking Sponsors
Friends of the Forum
Clementine Fund
Lumpkin Family Foundation
The Casey and Family Foundation
---
Reckoning a Way Forward:
Co-creating Philanthropy's Course toward a More Just and Sustainable Food System
Coronavirus infection rates are down, vaccination rates are up, stress on the healthcare system is easing, schools are reopening, and our struggling economy is stabilizing. Five months into the Biden-Harris Administration and the 117th Congress, USDA, FDA, EPA and other agencies are getting back to their regulatory and programmatic duties, and legislators are getting back to the business of lawmaking.
A return to normalcy is at hand. But is that what we want?
2020 highlighted deep injustices in every one of our systems—health care, politics, economics, education, law enforcement—and, of course, food and agriculture. Such upheaval and disruption is an opportunity to reimagine and improve systems.
SAFSF's 19th Annual Forum will help food system funders and investors examine how our practices have perpetuated the systems that have failed us, especially in this last tumultuous year, and amplify the voices of those who have kept their neighbors fed by growing their own food, supporting their local farms, changing their businesses on the fly, and advocating for authentic redress of entrenched food system injustices. These leaders are showing us the way toward a more just, equitable, and sustaining food system. Join us at the Forum as a first step in connecting with peers and following their lead.
*Helpful hints: Toggle between calendar and list views for the Forum program by clicking on "List" or "Month" at the top right of the page. Click on any session name to view the full description and speaker details.
---
About SAFSF
SAFSF amplifies the impact of philanthropic and investment communities in support of just and sustainable food and agriculture systems, and the SAFSF Forum is the only national gathering for and by funders supporting just and sustainable food systems change. The Forum challenges participants to understand the need for grantmakers and investors to take on risks in order to co-create more resilient, sustainable, and equitable food systems—and at the same time, provides space to cultivate connections with peers so that no one organization is going it alone.
---
Who is a "Funder?"
The annual SAFSF Forum is designed by and for funders. Funders are considered those organizations using grantmaking or investments as a core strategy to fulfill their mission and who make grants or invest more than $50,000 annually. This includes individual donors, executive and program staff,​ and members of the board of grantmaking organizations (family foundations, individual donors, corporate foundations, government, community foundations, etc.), as well as representatives of non-profit or for-profit investment enterprises. Development or fundraising staff are not permitted to participate in SAFSF events.
---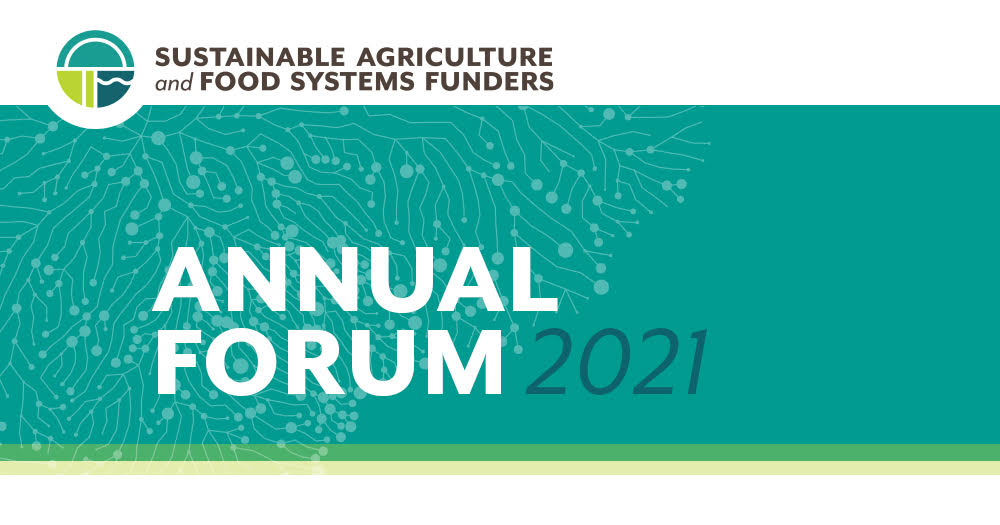 Registration Rates
| | | | | |
| --- | --- | --- | --- | --- |
| Member | | | $350 | |
| Non-Member | | | $400 | |
| Philanthropy Support Organization | | | $350 | |
| Food System Partner* | | | $350 | |

We are offering a 5% discount on registration for groups of 3 or more when registered and paid in one transaction. The discount will not apply if each person registers and pays separately.

*Food System Partner registration is a member benefit. Each SAFSF member organization is entitled to invite one representative of an organization that they are financially supporting to register for the Forum. Email

[email protected]

if you have questions about this member benefit.
---
2021 Forum Advisory Committee
David Beck, Self-Help
Lenore Beyer, Kinship Foundation
Bryan Crawford-Garrett, Thornburg Foundation
Paola Diaz, The 11th Hour Project
Noah Fulmer, Fair Food Network
Christine James, The John Merck Fund
Ashley Lukens, Frost Family Foundation
Ann Mills, Agua Fund
Carol Pickering (chair), Dietel & Partners, LLC