---
The Board of Directors supervises, controls and directs the affairs of SAFSF, determines its policies, carries out its purposes and budgets, and disburses its funds. Directors serve three-year terms.
For information about serving on the Board of Directors, contact Nominating Committee Chair Jen Zuckerman.
---
j. olu baiyewu
City of Atlanta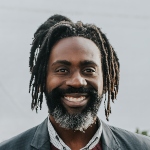 j. olu baiyewu is a food systems expert that excels at resolving challenges, with a combination of innovative & time-tested solutions. while achieving measurable, sustainable results through strategic planning and capacity building, his approach is of a personable servant leader, tenacious community advocate, and well-informed professional, rooted in values such as equity, transparency, inclusivity, and accountability to name a few.
As the City of Atlanta Urban Agriculture Director, j. olu leads the strategic planning process, stakeholder and partner collaboration, and program implementation for Atlanta's urban agriculture and fresh food access activities. Prior to joining the City of Atlanta j. olu was Director of Programs and Outreach at Atlanta nonprofit Food Well Alliance. There he led the partnership, outreach, and implementation strategy of the organization's Resource Center program. j. olu has also founded and served as Director of Organix Matters, which designs, builds, manages, and grows initiatives across metro Atlanta in Community Supported Agriculture (CSA), farmers markets, and gardens. He has also worked at two Atlanta-area non-profit urban farming organisations, Truly Living Well Center for Natural Urban Agriculture and Global Growers Network.
j. olu is a 2013 graduate of the Urban Grower Training Program at Truly Living Well, a Center for Civic Innovation Food Innovation Fellow, a member of The Wallace Center's Food Systems Leadership Network, and a past Forum (conference) Planning Committee member of Sustainable Agriculture & Food Systems Funders. Before his "official" urban agriculture journey began, j. olu worked in the restaurant and hospitality industry, and was Co-Founder of ThePopShop Natural Handcrafted Ice Pops in Chattanooga and Atlanta. He earned his BA in Business Administration with a concentration in Management, from Morehouse College.
---
Stacey Barbas
The Kresge Foundation
STACEY BARBAS is a senior program officer on the Kresge Foundation's Health Team. She is responsible for managing a portfolio of approximately $20 million that focuses on increasing health equity by addressing conditions that lead to poor health outcomes.
Her portfolio includes grants that address healthy food systems that benefit low income communities and she is a lead staff person on Fresh, Local and Equitable, a $12 million dollar initiative with the foundations' Arts & Culture program surfacing projects around the country that use food-oriented programs to contribute to economic revitalization, cultural expression and health in urban low-income communities. Ms. Barbas' professional career in the nonprofit health and human service fields spans 30 years. She joined the Kresge Foundation in January 2008 after serving for five years as Executive Director of the Michigan AIDS fund, a statewide nonprofit grantmaking organization. Ms. Barbas received a Master of Science in Administration and Management from Central Michigan University and a Bachelor of Arts Degree in Psychology from Wayne State University.
---
Ila Duncan
The Lumpkin Family Foundation (Secretary)
ILA DUNCAN has been an active member of the Lumpkin Family Foundation since she was a teen and has been on the board since 2016. Based in New York City, she is also a member leader in her local chapter of Resource Generation, organizing fellow young donors to support social justice movements.
Outside of her philanthropic work, Ila is a writer and comic artist exploring the ways that stories and art can shape society, and putting her own spin on favorite pieces of media just for fun. She has a background in film production but has moved away from that work to make more space for organizing. With the Lumpkin Family Foundation she supports land, health and community related work in and around Mattoon, Illinois where the foundation is located. Her role as a next-gen board member brought her to Resource Generation, seeking community with other young people in philanthropy, but their mission of redistributing wealth to support movements for social justice resonated so deeply that she now spends the majority on her time on that work.
---
Kaying Hang
Sierra Health Foundation (Vice Chair)
KAYING HANG serves on the executive team for Sierra Health Foundation and is president of The Center. In this role, Kaying has authority over The Center's operations and strategy.
She joined the foundation in 2013. A native Hmong speaker, Kaying received a bachelor of arts degree from Brandeis University and a master's in public health from Boston University. Originally from Minnesota's Twin Cities, she is the oldest of seven children and comes from a refugee family dedicated to social justice and racial equity. She and her family are proud to call Sacramento home.
---
Leslie Hatfield
GRACE Communications Foundation (Chair)
LESLIE HATFIELD is the senior partnership and outreach advisor at GRACE Communications Foundation, where she advises on communications matters and collaborates with like-minded organizations on the development and refinement of external communications.
Leslie has contributed to The Huffington Post, EcoWatch, Alternet, Edible Hudson Valley, Acres USA, and others, and served as lead author of the publication Cultivating the Web: High Tech Tools for the Sustainable Food Movement. She has taught a masters level food policy course at The Evergreen State College. In her past life, Leslie spent over a decade working in the restaurant industry. She sits on the steering committee of the Health and Environmental Funders Network, and is a board member for the Plastic Solutions Fund.
---
Andrew McElwaine
The Heinz Endowments
ANDREW MCELWAINE is The Heinz Endowments' vice president of Sustainability. He oversees the Endowments' Sustainability team and is responsible for building the foundation's sustainability-related work and infusing the principles of environmental and social sustainability across the full range of the organization's grantmaking and other activities. He is also responsible for the Endowments' Food Systems grant-making.
Andrew served for six years as the Endowments' first Environment Program director, leaving in 1999 to become president and CEO of Pennsylvania Environmental Council. He later held similar positions with the Conservancy of Southwest Florida and the American Farmland Trust, a national farmland conservation organization based in Washington, D.C. He returned to the Endowments in 2015.
While heading the American Farmland Trust, Andrew completed a national strategic plan to implement sustainable agriculture, create local food systems and reduce the climate effects of farming. Among other past accomplishments, he helped to create Pennsylvania's Growing Greener land and water conservation program and Growing Smarter land use planning program. He led the Conservancy of Southwest Florida's successful "Saving Southwest Florida" capital campaign, raising $40 million during the Great Recession. He assisted in the design of Florida's and Pennsylvania's climate change strategies and successfully fought to protect Florida's last undisturbed wildlife habitat from sprawl and over-development.
From 1991 to 1993, Andrew was a staff member for the President's Commission on Environmental Quality. He also was previously U.S. Senator John Heinz's environmental policy manager for five years.
He has served on the boards of more than a dozen organizations concerned with policy work and issues related to the environment, conservation, the safeguarding of natural resources and the protection of public health. Andrew earned a B.A. from Duke University, a master's degree from Carnegie Mellon University and a master's degree from George Mason University.
---
Mark Muller
Regenerative Agriculture Foundation
MARK MULLER serves as the executive director at the Regenerative Agriculture Foundation. He came to RAF in March 2020 after spending over 20 years working on related issues including agricultural conservation, Midwest water quality, racial equity in the food system, and effective federal food and agricultural policy.
Mark served as director of the Mississippi River program at the McKnight Foundation, and prior to that he directed the Food & Community Fellows program at the Institute for Agriculture and Trade Policy. He also spent two years teaching high school in New York City and 18 months volunteering in Honduras and Guatemala. He and his spouse and three children live in south Minneapolis.
---
Esperanza Pallana
Food and Farm Communications Fund
ESPERANZA PALLANA is a culture change leader working with people, data, strategy, capital and storytelling. Her passions are community centered economic development, equitable and sustainable food systems and racial justice. She has worked with nonprofits for over 20 years with an emphasis in leadership, systemic change, and policy advocacy. She has led several successful campaigns that resulted in institutional change and innovative policy as well as capital and grantmaking programs advancing economic and racial equity. For the past ten years, she has worked to support social justice entrepreneurs and movement leaders in removing policy barriers, consolidating resources and accessing grant and lending capital for transformative food system change. She has recently joined the Food & Farm Communications Fund as Executive Director.
---
Katherine Pease
Pathstone
KATHERINE PEASE is a Managing Director at Pathstone. Before joining Pathstone, she served as the Chief Impact Strategist at Cornerstone Capital Group (acquired by Pathstone in 2021). Katherine led Cornerstone's thematic research team and co-managed the firm's impact measurement effort, while also working directly with clients and providing strategic guidance to the integration of impact strategies across the firm.
Before Cornerstone, Katherine served as the Principal of KP Advisors, Inc. The firm's mission was to help foundations, nonprofits, and investors develop thoughtful, innovative approaches to address the challenges they care most about by using various types of capital and other resources to make the world more just, fair, and equitable. Previously she served as Senior Vice President for Philanthropic Investment and Public Policy at Gary Community Investments and as Executive Director of the Gill Foundation.
Katherine is a board member of Global Greengrants Fund and the Colorado Nonprofit Association, and she serves on numerous corporate and nonprofit advisory boards. Katherine is a graduate of Colorado College and holds an MPA from the University of Colorado Denver.
---
Michael Roberts
First Nations Development Institute (Treasurer)
MICHAEL (MIKE) ROBERTS, Tlingit, returned to the First Nations Development Institute as president in 2005 after serving as their COO from 1997 to 2002. First Nations works to strengthen and build a strong foundation for American Indian-controlled economies that support healthy Native communities.
In the interim Mike spent five years in private equity; he has also worked for Alaska Native corporations, and for local IRA councils, primarily in accounting and finance. Mike has taught at the MBA program of the Bloch School of Business at the University of Missouri Kansas City and at the Haskell Indian Nations University. He holds an MBA from the University of Washington with an emphasis in finance and operations management and a Bachelor's of Environmental Design Degree in Architecture from the University of Colorado.
---
Olivia Watkins
Black Farmer Fund
OLIVIA WATKINS is a social entrepreneur and impact investor. For the past seven years, she has financed, developed, and operated environmental and social projects across the US. She currently serves as a co-founder and President of Black Farmer Fund, a non-profit impact investing organization creating sustainable and equitable food systems by investing in black farmers and food businesses of NY. She also serves as a board member for Soul Fire Farm Institute and just participated in the 2020 SAFSF Cohort. Prior to founding Black Farmer Fund in 2017, Olivia worked in several production roles at Soul Fire Farm Institute and Kahumana Organic Farms, leveraging her environmental biology background to manage and grow environmentally regenerative and socially impactful business operations. Olivia has an MBA from North Carolina State University in Financial Management, and a BA from Barnard College, Columbia University in Environmental Biology. She was also recognized on the 2021 Forbes 30 under 30 Social Impact list and The Grist 50.
---
Jennifer Zuckerman
World Food Policy Center, Duke University
JEN ZUCKERMAN serves as Director of Strategic Initiatives at Duke University's World Food Policy Center focuses on people-first policy development for equitable food policy.
In addition to her position with the World Food Policy Center, she contracts with the Biwa-Emergent Equity, facilitating white caucuses in nonprofit and philanthropic organizations. Jen also contracts with DEI Works Collective, in the capacity of a racial equity facilitator. She concentrates specifically on the role of white women and their complicity in upholding white supremacy culture.
Previously, Jen spent twelve years at the Blue Cross and Blue Shield of North Carolina Foundation, serving as the Senior Program Officer for Healthy Living and the Director of Strategic Partnerships, focusing on increasing access to safe active environments and on providing sources for healthy, locally sourced food.
Jen serves on the Boards of the Sustainable Agriculture and Food System Funders Network and Communities in Partnership. She also serves as the Chair of the Center for Environmental Farming Systems Advisory Board, Secretary of the Blue Ridge Parkway Foundation Board of Directors.
---