The Finance and Audit Committee will provide board oversight on financials; review and recommend the annual budget for board approval; develop investment policies and oversee the implementation of those policies; and oversee the engagement of an accounting firm to perform SAFSF's financial audit.
---
Appointments and Composition
All committee members must be currently serving on the Board of Directors. The committee is chaired by the board Treasurer and will include at least one additional board member. The committee is staffed by the Vice President, Operations and Finance. The Executive Director will sit in on committee meetings when the annual budget is reviewed or otherwise requested. Neither the Vice President, Operations and Finance nor the Executive Director have voting power with regards to committee decisions.
The committee will make a recommendation to the Board of Directors on budget, financial and audit matters when a decision by the full board is needed.
For information about serving on the Finance and Audit Committee, please contact Vice President, Operations and Finance Bridget Dobrowski.
---
J.Olu Baiyewu
City of Atlanta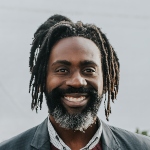 j. olu baiyewu is a food systems expert that excels at resolving challenges, with a combination of innovative & time-tested solutions. while achieving measurable, sustainable results through strategic planning and capacity building, his approach is of a personable servant leader, tenacious community advocate, and well-informed professional, rooted in values such as equity, transparency, inclusivity, and accountability to name a few.
As the City of Atlanta Urban Agriculture Director, j. olu leads the strategic planning process, stakeholder and partner collaboration, and program implementation for Atlanta's urban agriculture and fresh food access activities. Prior to joining the City of Atlanta j. olu was Director of Programs and Outreach at Atlanta nonprofit Food Well Alliance. There he led the partnership, outreach, and implementation strategy of the organization's Resource Center program. j. olu has also founded and served as Director of Organix Matters, which designs, builds, manages, and grows initiatives across metro Atlanta in Community Supported Agriculture (CSA), farmers markets, and gardens. He has also worked at two Atlanta-area non-profit urban farming organisations, Truly Living Well Center for Natural Urban Agriculture and Global Growers Network.
j. olu is a 2013 graduate of the Urban Grower Training Program at Truly Living Well, a Center for Civic Innovation Food Innovation Fellow, a member of The Wallace Center's Food Systems Leadership Network, and a past Forum (conference) Planning Committee member of Sustainable Agriculture & Food Systems Funders. Before his "official" urban agriculture journey began, j. olu worked in the restaurant and hospitality industry, and was Co-Founder of ThePopShop Natural Handcrafted Ice Pops in Chattanooga and Atlanta. He earned his BA in Business Administration with a concentration in Management, from Morehouse College.
---
Katherine Pease
Pathstone
KATHERINE PEASE is a Managing Director at Pathstone. Before joining Pathstone, she served as the Chief Impact Strategist at Cornerstone Capital Group (acquired by Pathstone in 2021). Katherine led Cornerstone's thematic research team and co-managed the firm's impact measurement effort, while also working directly with clients and providing strategic guidance to the integration of impact strategies across the firm.
Before Cornerstone, Katherine served as the Principal of KP Advisors, Inc. The firm's mission was to help foundations, nonprofits, and investors develop thoughtful, innovative approaches to address the challenges they care most about by using various types of capital and other resources to make the world more just, fair, and equitable. Previously she served as Senior Vice President for Philanthropic Investment and Public Policy at Gary Community Investments and as Executive Director of the Gill Foundation.
Katherine is a board member of Global Greengrants Fund and the Colorado Nonprofit Association, and she serves on numerous corporate and nonprofit advisory boards. Katherine is a graduate of Colorado College and holds an MPA from the University of Colorado Denver.
---
Michael Roberts
First Nations Development ( SAFSF Board Treasurer)
MICHAEL (MIKE) ROBERTS, Tlingit, returned to the First Nations Development Institute as president in 2005 after serving as their COO from 1997 to 2002. First Nations works to strengthen and build a strong foundation for American Indian-controlled economies that support healthy Native communities.
In the interim Mike spent five years in private equity; he has also worked for Alaska Native corporations, and for local IRA councils, primarily in accounting and finance. Mike has taught at the MBA program of the Bloch School of Business at the University of Missouri Kansas City and at the Haskell Indian Nations University. He holds an MBA from the University of Washington with an emphasis in finance and operations management and a Bachelor's of Environmental Design Degree in Architecture from the University of Colorado.
---
Olivia Watkins
Black Farmer Fund
OLIVIA WATKINS is a social entrepreneur and impact investor. For the past seven years, she has financed, developed, and operated environmental and social projects across the US. She currently serves as a co-founder and President of Black Farmer Fund, a non-profit impact investing organization creating sustainable and equitable food systems by investing in black farmers and food businesses of NY. She also serves as a board member for Soul Fire Farm Institute and just participated in the 2020 SAFSF Cohort. Prior to founding Black Farmer Fund in 2017, Olivia worked in several production roles at Soul Fire Farm Institute and Kahumana Organic Farms, leveraging her environmental biology background to manage and grow environmentally regenerative and socially impactful business operations. Olivia has an MBA from North Carolina State University in Financial Management, and a BA from Barnard College, Columbia University in Environmental Biology. She was also recognized on the 2021 Forbes 30 under 30 Social Impact list and The Grist 50.
---